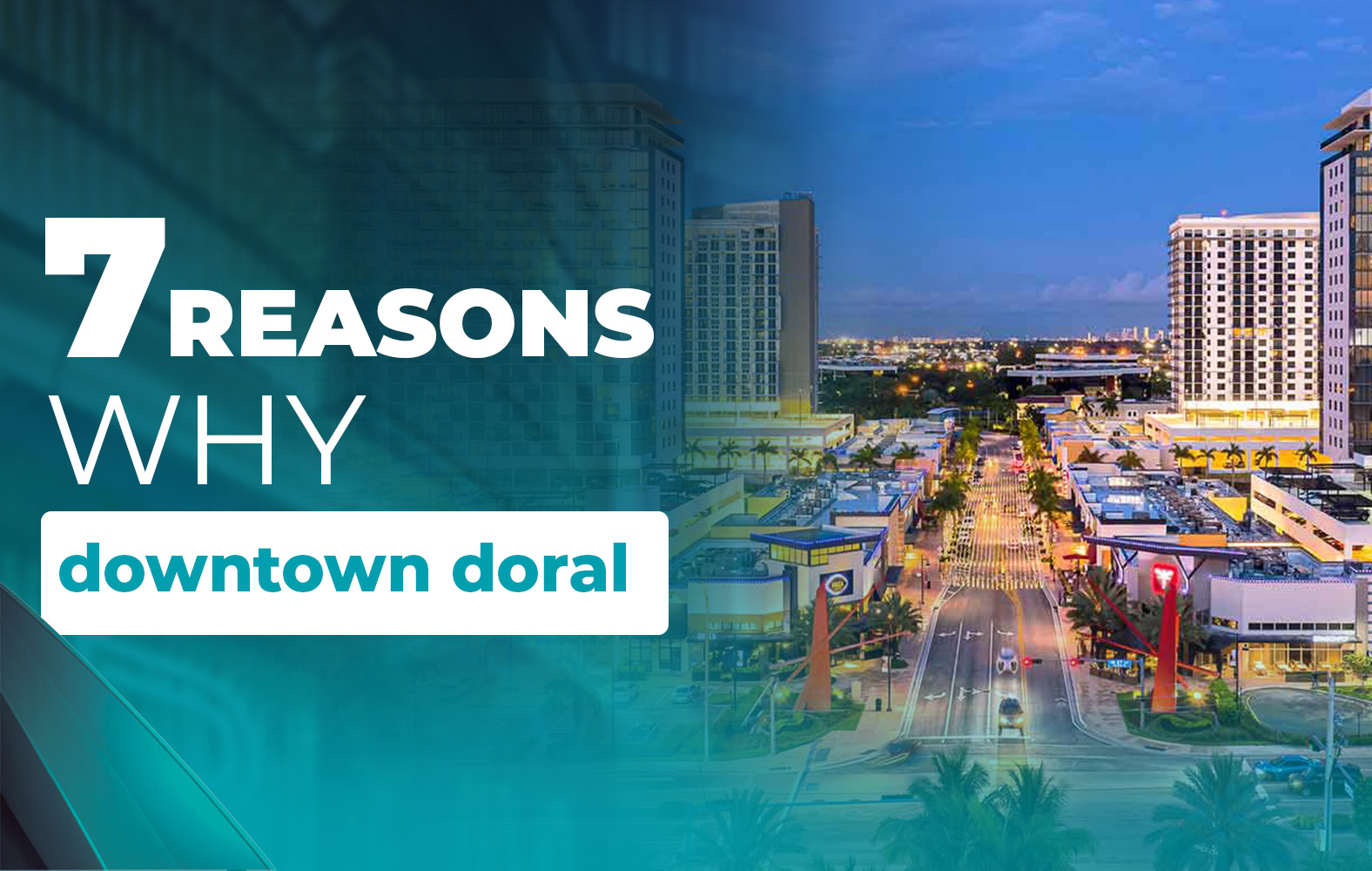 30 de June de 2022
7 Reasons Why Downtown Doral
Excellent location:

It is located in western Miami-Dade County
Just minutes from Coral Gables, Brickell, Downtown Miami and Miami Beach.
Major highways and highways are close by – Palmetto (SR 826), Dolphin (SR 836), and the Florida Turnpike.
Major shopping malls are only 5-7 minutes drive away at Dolphin Mall and International Mall.
1 mile from Miami International Airport.

Safe and family lifestyle:

The city of Doral has been decorated as the city of games for children in the USA from 2010-2014.
It was named by Forbes.com as the #2 city of the Top 25 US cities to live in.
96.4% of Doral residents recommend it as a place to live and work and 95.6% rated the quality of life as excellent.
The city of Doral was named the third best place in the US to retire by US News & World Report.
Downtown Doral has a 3-acre park with a pavilion designed by artist Michelle Oka Doner. A spectacular park for family enjoyment.

A city within a city:

It is a sophisticated urban center, including several high-end condominium towers, houses, apartments, office buildings, shops, restaurants, a public school, a park with a public pavilion, and a government center.
Armando Codina, executive president of Codina Partners, explained that the objective was to create a community to "live, work, learn and play", where families can enjoy the benefits of urban life, without paying for their homes the amounts that they pay in other Miami-Dade gated communities.
"It's not about a project, it's about a city," Codina said. The community stretches from 87th Avenue to 79th Avenue, and from 54th Street to the Trump National Doral Miami complex.

Excellent investment:

Downtown Doral was designed by the same architects and professionals who are building the most expensive buildings in the city.
Famous architects Carlos Sieger and José Suárez of the Seiger Suárez Architectural Partnership are responsible for the architecture of the best buildings in Miami and Sunny Isles, such as Murano, St. Regis, Ocean I, II and III, among others. They are the ones who designed the first two apartment towers for Downtown Doral.
In Downtown Doral the square foot is selling for approximately $364 compared to Brikcell which is selling for approximately $600.
Current rent for nearby projects is between $2.30-$2.40 per square foot. For this reason, rental expectations for Paseo are going to be high since the project has a commercial area and more luxurious units.

Downtown Doral Charter Elementery :

The Downtown Doral Charter Elementary School is a privately controlled and funded entity, but will be publicly managed by the school board and is among the best schools in Florida.
The school runs from Pre-K through 5th grade with a capacity of over 800 students.
It opened its doors during the school year of August 2015.
It is the first time a charter school controlled by a school district has been created in the United States since its construction.
The mission of the school is to provide its students with a comprehensive curriculum with bicultural/bilingual education through education through the application of innovative language programs, facilitated by a highly qualified staff, creating excellent students and future leaders of the world. .
Provides visual arts classes extensive art and music programs in Da Vinci and Mozart laboratories strategically designed for these purposes.

Shops at your fingertips:

The development also has more than one million square feet of office space, 2,840 residential units, public green space, and 200,000 square feet of retail and dining.
The area is similar in style to Miracle Mile in Coral Gables: a street with shops on both sides that starts at 87th Avenue and 53rd Street.
Among the premises there will be Latin American restaurants of Mexican food; Cuban like Las Vegas; an Argentine ice cream parlor, Freddo, and the Spanish Bulla that will debut with a ceviche dish called Pisco y Nazca, in addition to the Japanese Dragonfly.

Proximity to the golf course:

The 5300 Paseo units overlook the Trump National Doral Golf Course.
The units are within walking distance of the Trump National Golf Course convenient for people who like to play golf.
Every year the PGA Cadillac is held, which is the most important golf tournament where players like Tyger Wood come to participate.
The golf course, Trump National Doral Golf Course is one of the best in the United States. The renovation of said golf course is $250 million.